Shanghai, December 16, 2022 - Aon Group, a global leading professional services firm, recently released its list of 2022 Best ESG Employers in China. Hasten Biopharma was awarded the " 2022 Aon China Best ESG Employer Agile Organization Award" for its efforts on sustainable organization building and innovation achievements.
"In the era of VUCA, building a sustainable corporate culture is a must for a company to grow into a long-lasting business," said Summer Xia, CEO of Hasten Biopharma. "Talent development is the key to our success. Hasten Biopharma has always emphasized the corporate culture of 'Valuing the Frontline Staff' and 'Ownership' to provide our employees with an innovative work experience that is efficient, agile, diverse and inclusive. In the future, we will continue to actively explore the work model that can meet the development needs of modern talents and strive to provide a broader platform for each employee who joins Hasten Biopharma to realize his or her self-worth and achieve great ambitions."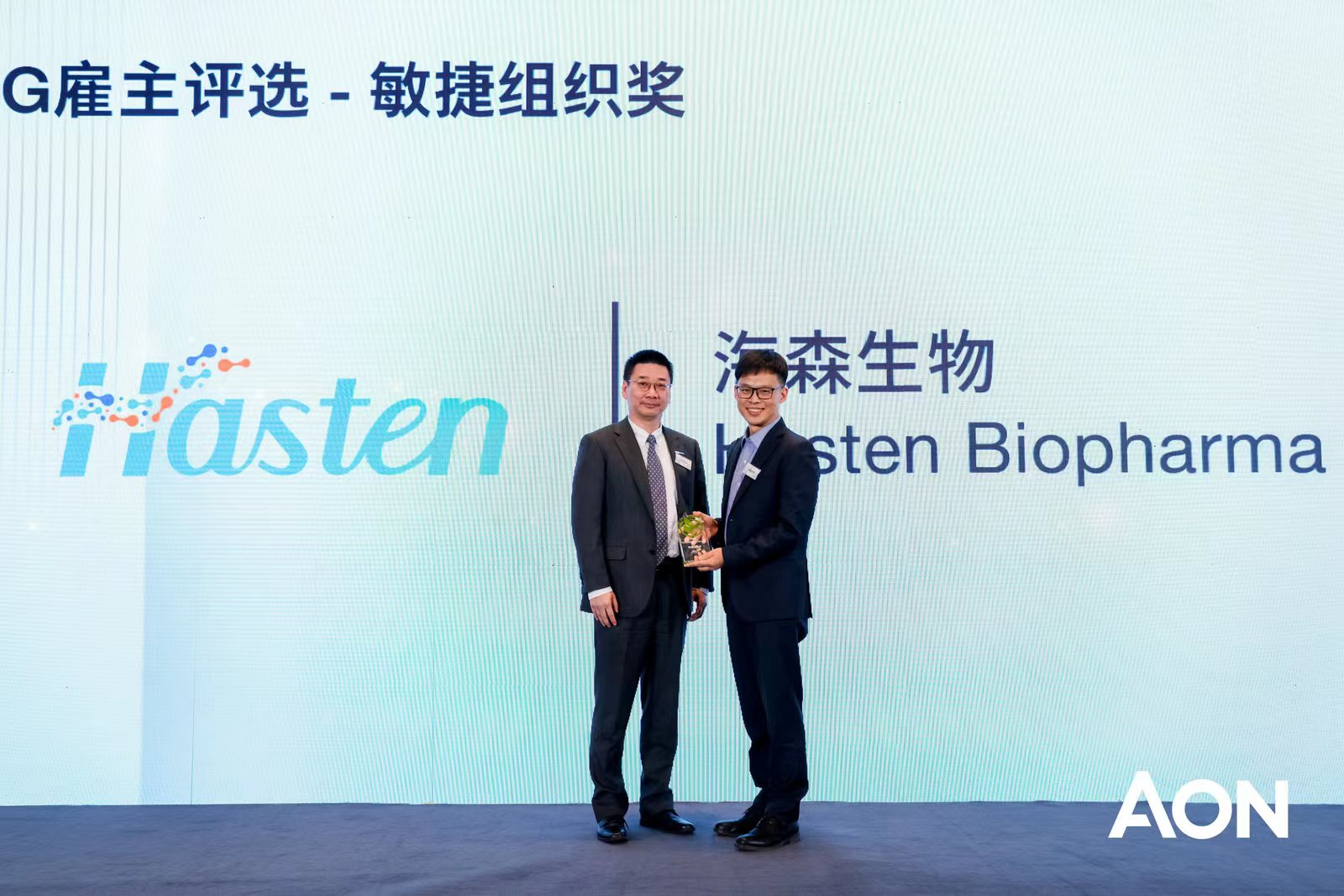 At present, there is still a huge unmet need in the field of chronic diseases management in China, and the incidence of diseases and mortality rates are always on a significant rise, causing a heavy burden to society, families and individuals. As a biopharmaceutical company focused on the treatment of chronic diseases and age-related diseases, Hasten Biopharma is committed to help solve the challenges of chronic diseases and age-related diseases in China by building a professional team and providing quality treatment solutions.
At the beginning of its establishment, Hasten Biopharma quickly attracted a large number of like-minded talents to join the team, and the average recruitment time for positions was just as short as 40 days, which is far ahead of the industry average. The onboarding procedures are all completed online, which not only provided convenience for employees during the epidemic, but also created a good start for the paperless process.
Today, more than 85% of Hasten Biopharma's employees work on frontline, providing specialized services to doctors and patients across the country. In this context, it is especially important to build an efficient and sustainable corporate platform to continuously attract outstanding talents. With this in mind, Hasten Biopharma has created an innovative and inclusive work environment by upholding the corporate values of "Integrity, Agility, Innovation and Ownership", and has launched the "Management-Frontline Express" program. Through this program, Hasten Biopharma aims to build a platform for communication and interaction between management team and frontline employees, so that more leadership team and supporting functional teams can go deeper into the frontline and personally participate in the daily work of frontline employees, as well as communicate and discuss with them during the experience, encourage them to contribute ideas and continuously improve their sense of value. At the same time, the "Process Optimization" project, which was launched at the beginning of company's operation, has formed a good synergy effect with "Management-Frontline Express" program, allowing employees' innovation suggestions and efficiency improvement solutions to become a reality at "Hasten Speed".
The 2022 China Best ESG Employers Judging Committee gave high recognition to Hasten Biopharma's performance: Despite the challenging past year, Hasten Biopharma has built an innovation mechanism that fully embraces employee participation while ensuring rapid company's growth, identifying a sustainable development plan that focuses on industry challenges, and giving full play to the power of Chinese talents.