The year of 2022 marked the 70th anniversary of the Patriotic Health Movement (Be shorted as 'the movement'). On December 27, the 2022 National Patriotic Health Campaign Conference, with the theme of "70 years' Patriotic Health Movement, Healthy China Tour - advocating a civilized, healthy, sustainable and environmental lifestyle, and helping to normalize epidemic prevention and control", was successfully held in Beijing.
The Movement was supervised by the National Patriotic Health Office and the Health China Action Promotion Office, and hosted by the Organizing Committee of the National Patriotic Health Movement Conference, aiming to implement the spirit of the 20th CPC National Congress and the State Council's requirements of Deepening the Patriotic Health Movement and Opinions on the Implementation of the Health China Action, and to promote the patriotic health movement and achieve the stability of the Health China Action.
The conference was held at the main venue in Beijing (with simultaneous live online streams from various cities) and thematic parallel sessions, accompany with synchronous live broadcast through People's Daily, China Family News live platform, Sina Weibo, Beijing Time, Baidu Health, Youku, CCTV Video APP, WeChat Video, Tik Tok, Kuaishou, and Toutiao, etc.,. The online viewing volume exceeded 12 million.
Along with the chapters of "Heritage Health, Build a Beautiful Home", " Patriotic Health Movement, Build a Healthy China", "Innovate Health, Dash to a Better Tomorrow", diversified health stories had appeared to public. During the awarding ceremony, Hasten Biopharma was awarded as the "Patriotic Health Campaign Health Partner" with its unremitting efforts in leading health industry innovation and promoting the integrated development of health industry, as well as its mission to popularize healthy lifestyle and promote the spirit of health.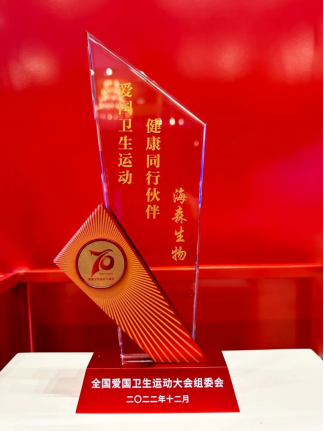 In the future, Hasten Biopharma will continue to carry forward the spirit of love for health, help promote the popularization of correct health knowledge, constantly focus on the needs of doctors and patients, bring more innovative solutions to Chinese patients, and protect the health of the people.