Hasten Bioparma and Jointown Pharmaceutical Group Co. (Jointown Group) signed a strategic cooperation agreement. The two companies will work together to build an out-of-hospital chronic disease management ecosystem, enhance retail terminal coverage through efficient commercialization capabilities, improve out-of-hospital patient access to medicines, and work together to benefit more patients with chronic diseases.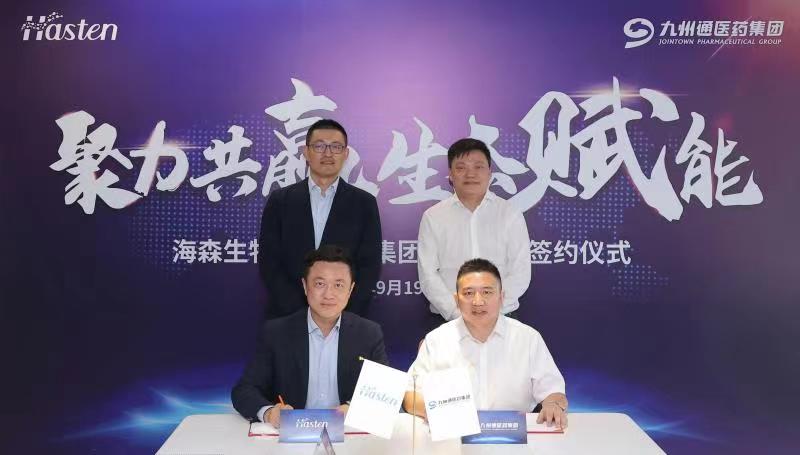 Summer Xia, CEO of Hasten Biopharma, said: "Hasten Biopharma has always focused on patients' needs and is committed to bringing innovative drugs and therapies to patients with chronic diseases and age-related diseases to build a health management ecosystem. The partnership with Jointown Group will be an important starting point for Hasten Biopharma to lay out the out-of-hospital market and provide Chinese chronic disease patients with more convenient and extensive access to original drugs under the three policy pillars of 'Separation of Prescribing & Dispensing', 'Hierarchical Medical System' and Intelligent Medical Care', contributing to the realization of the '2030 Healthy China' strategy".
Liu Dengpan, Vice Chairman of Jointown Group, pointed out, "We are pleased to see that the management of Hasten Biopharma has the forward-looking insight to lay out the retail market during the introduction and growth stages of the drug, which in turn increases the value of the product. The signing of this strategic cooperation marks that Jointown Group and Hasten Biopharma will support each other, innovate and develop together, and work hand in hand in the out-of-hospital market to make our due contribution to the health and well-being of patients with chronic diseases."
Hasten Biopharma completed the acquisition of Takeda Pharmaceutical's 5 star drugs in the cardiovascular and metabolic areas in March this year, enriching its strategic product portfolio in the chronic disease areas and bringing more health benefits to patients.
Relying on the product promotion and operation experience accumulated in the pharmaceutical distribution field for many years, Jointown Group has been vigorously developing the general agent brand promotion business in recent years. With this collaboration, Jointown Group will use its strong supply chain services, nationwide distribution network, powerful marketing management capabilities and diverse innovative services to provide comprehensive services such as market access, marketing coverage and co-build chronic disease management for Hasten Biopharma, so as to enhance high-quality branded drug accessibility and empower chronic disease patient health management.